Have You Noticed More Fallen Tree Limbs this Summer?
Have you noticed more falling tree branches than usual this summer? Tree limbs can fall due to heavy and unnecessary loads of foliage or genetic defect, but there is another reason why it seems prevalent this year. It's called "sudden summer limb drop " – also known as "sudden branch drop."
The phenomena causes limbs to break commonly on hot and windless days, with no obvious external signs of defect or trauma to the tree. The inner wood is broken bluntly (round and flat breakage), as opposed a breakage with sharp splintering.
Some experts theorize this phenomena is due to a build-up of moisture in the limb. The extra weight of the water accumulation stresses the limb and causes it to break. Water build-up could be the result of leaves not adequately expelling moisture moving through the tree and limb. However, in most cases, there aren't any obvious signs your tree's limbs are in distress.
What to Do
So what can you do about falling tree branches? The main point is to be aware of the trees that commonly suffer from sudden limb drop. These include, but are not limited to, the following:
Trees Most at Risk
Oak trees (the most common)
Maple trees
Raywood Ash trees
Bradford Pear trees
Modesto Ash
Redwood Ash trees
Chinese Pistache trees
Sycamore trees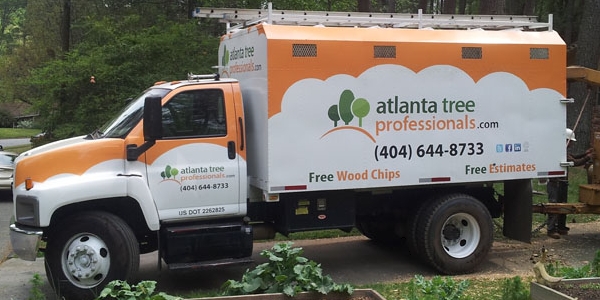 Get Professional Advice
Next, reduce the risk by having a professional inspect your trees. At Atlanta Tree Professionals, we can't always predict which limbs will fall. But we can advise you on which trees are most at risk to your home or property.
Call Atlanta Tree Professionals
Call the pros at Atlanta Tree Professionals to learn more about the hazards of your trees and how to have them safely trimmed or removed. ATP brings quality tree care service to your GA home. We are your tree service experts serving Sandy Springs, Roswell, Marietta and north metro Atlanta. We're also a member in good standing with the Tree Care Industry Association, which sponsors the Tree Care Tips website for homeowners.
Call (404) 644-8733