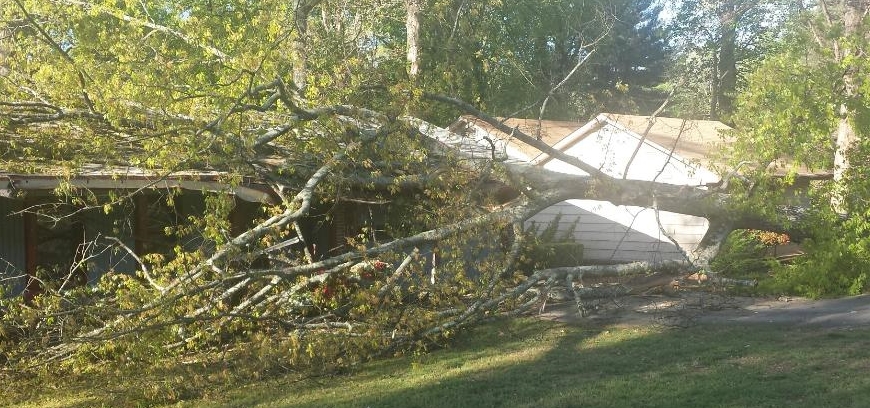 It certainly has been a rainy June!. And all that rain has softened the ground, generally making our trees more vulnerable to falling over and damaging property. So the question arises: who is responsible for fallen tree removal?
Where the Tree Falls Determines Who Pays for What.
McClain Insurance Services has written an excellent article to answer this question. But the highlights revolve around several scenarios.
Scenario #1: Your tree falls on your house
If your tree falls on your house, your homeowner's policy will provide coverage for any damages up to your policy limits (after you pay your deductible.) This coverage extends to cover damage to your main home, garage, shed or other additional buildings, and structures such as a fence. If there is damage to a structure, debris removal is also covered, up to policy limits.
However, if your tree comes down in your yard during a windstorm without causing any damage to your house or structures, your homeowner's policy will not pay for debris removal. You are responsible to take care of the removal of the tree.
Scenario #2: Your tree falls on your neighbor's house
If your tree falls on your neighbor's house, the basic (and almost always applied) rule is that the insurance policy of the property that was damaged pays for the loss. In other words, if your tree falls on your neighbor's house, your neighbor's homeowner's insurance covers the damage to your neighbor's house.
Scenario #3: Your neighbor's tree falls on your house
As in Scenario #2, the policy of the damaged property pays. So, if your neighbor's tree falls on your house, your homeowner's insurance applies.
Scenario #4: You are upset because your neighbor's tree that fell on your house was old and weak, and the damage could have been avoided (you think)
Allow us to start with a disclaimer. This scenario is extremely rare!! If your neighbor has a tree that seems diseased, express your concerns to your neighbor. Tell them that you feel that your home is in jeopardy of being damaged. But keep in mind that a person can't be forced to remove a tree.
If you have serious concerns about your safety, you may wish to get the tree evaluated by a professional and then send a certified letter to your neighbor requesting the removal of the tree. This will put your insurance company in a stronger position to argue your neighbor's negligence in the event of a claim.
For Fallen Tree Removal, Call ATP
If you have property damage and need tree removal, call us. We can help you submit the proper paperwork to your insurance company. We work with all major insurance carriers and are happy to do our part to help you. We are licensed, bonded and insured.
Remember to always choose a professional when working in or around your property! We are your local experts for residential and commercial tree service in Sandy Springs and north metro Atlanta.
Call Atlanta Tree Professionals – (404) 644-8733