While we may think of trees as ageless, trees do get old and can begin to show their age. Tree limbs die, and in some cases, the tree itself can die. From the time you first notice this, don't delay – a dead or damaged tree is not something to be ignored. Bad weather can easily be the catalyst to drop dead limbs or trees on your home or property. Follow these tips for hiring a tree service professional.
Where to Find a Tree Service Professional
So where do you find a qualified tree professional? Start with an internet search! A good tip for searching online is to use city-specific search terms. For example, you might us the phrase "tree trimming Decatur" or "tree removal Marietta GA" to find a list of relevant companies that serve your city or neighborhood.
Other sources of information can be from friends and neighbors. Your homeowners association might have some recommendations as well. Don't be afraid to ask.
Qualify Your Prospects
Once you have a list of potential tree service companies, the next step is to qualify each one. Online review sites like Yelp, the Better Business Bureau, Manta.com and others may have some relevant customer reviews. A Facebook search might provide some insight as well.
Time to Get Some Quotes
So now that you've narrowed your list down to several tree service providers, it's time to get estimates and quotes. For each tree company you interview, be sure to review the following information:
Explain the exact work you're looking for (trimming or full tree removal).
Have them inspect the job and offer any other recommendations.
Make them show proof of licensing and insurance.
Call your local county office to verify licensing.
Call their insurance company to verify insurance coverage.
Verify that they follow workplace health and safety regulations.
Confirm any need for city or county work permits.
Have them provide references to call.
Get a written quote or estimate – this should explain the entire scope of the work.
Ask about stump grinding and whether they offer that as part of their service.
Confirm that payment is due upon completion of the work!
Review All the Details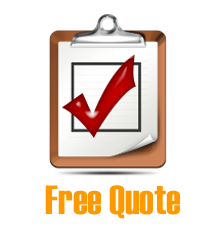 The formal quote provided by the tree company should include a complete and detailed explanation of the work performed, including clean-up and whether they offer stump grinding and removal. It's common for tree companies not to offer stump grinding, but just be sure to ask. Be sure to confirm yard clean-up and any other landscaping services offered, too.
Pay Attention to Your Yard
Avoiding damage from trees and limbs involves effort on your part. Examine the trees in your yard, at least on a monthly basis. At the first hint of disease or damage, call a professional tree service provider to take a closer look and offer recommendations.
A dead or damaged tree is not something to be ignored. Not only are dead branches dangerous for your property, but they may also endanger human life. It takes big equipment and experienced professionals to get the work done.
Follow these tips for hiring a tree service company to ensure you get safe and professional service. Or save yourself some time and call Atlanta Tree Professionals today. We're a member in good standing with the Tree Care Industry Association, which sponsors the Tree Care Tips website for homeowners.
Need Service Now? Call ATP (404) 644-8733
Have a question about your trees or need service now? Call Atlanta Tree Professionals today. The wet and soggy weather we've been having can put your trees and property at risk.

Did you like these tips for hiring a tree service company?