Don't Be a Statistic in 2018
With the coming of Spring, the weather starts to change and we experience the wrath of Mother Nature with dangerous thunderstorms and even tornadoes. These storms can wreak havoc on our trees, toppling them or leaving them damaged to a point where they'll have to be removed in order to maintain the safety of your home and property.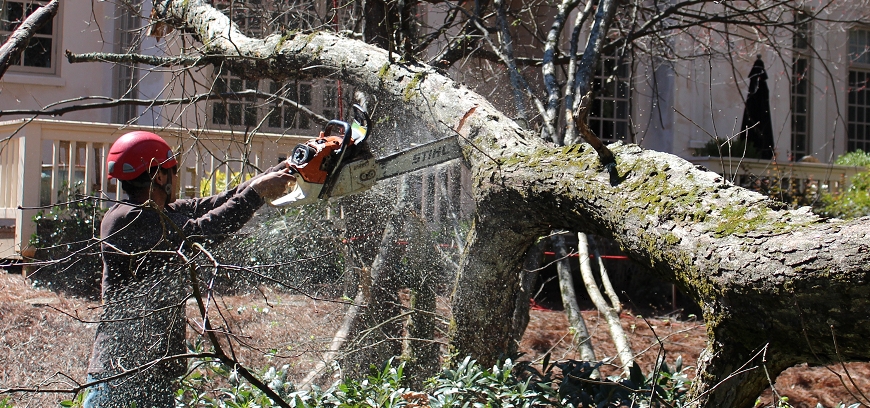 Please don't attempt to remove a weakened tree by yourself or with the help of a neighbor. Tree cutting accidents are very real. There are too many variables that could work against you and cost you your life. As this article from the Tree Care Industry Association warns, removing trees is not work for homeowners:
This Is Work for Professionals
Tree care can be incredibly dangerous, even for professional arborists. Even so, many "do-it-yourself" homeowners attempt their own tree work, often with disastrous results.
In 2015 alone, the Tree Care Industry Association (TCIA) recorded 58 serious civilian tree care accidents, 34 of which were fatal. Six of these victims were under the age of 13, and were innocent bystanders to the misguided actions of adults.
While these numbers are not representative of all tree care accidents involving non-professionals, they provide insight into the types of hazards civilians are likely to encounter while attempting tree work.
"To fully comprehend the dangers of tree work, consider this: No layperson would attempt to pilot a small aircraft without the requisite training and experience. And yet, that is essentially the same risk level one assumes when attempting tree work. Tons of suspended weight, great heights, powerful equipment and kilovolts of electricity – these are just a few of the hazards encountered in routine tree trimming and removal."
Electricity Kills
In Florida, two men were trimming trees on church property with a rented lift when they came in contact with an overhead power line and were shocked and burned. The accident knocked out power in the nearby community, indicating that the seemingly harmless, bare wire they encountered carried primary distribution voltage — thousands of volts!
What would the pros do? "First of all, arborists recognize electrical conductors to be the most unforgiving of all hazards encountered in the field. Most electrical contact incidents are fatal," says Gerstenberger. "Arborists who don't have electrical hazards training stay at least 10 feet away from ALL electrical conductors. They realize that metal ladders and pole tools, tree limbs and various types of equipment can conduct electricity. Unlike the two unfortunate gentlemen at the church, they would never approach a wire in an uninsulated, rental-yard lift. Arborists who work within 10 feet of conductors have special training, use rated insulated equipment and follow special procedures to avoid the electrical hazard.
Play it Safe – Call ATP
Tree cutting accidents are very real. Call the pros at Atlanta Tree Professionals to learn more about the hazards of your trees and how to have them safely removed. ATP brings quality tree care service to your GA home. We are your tree service experts serving Sandy Springs, Roswell, Marietta and north metro Atlanta. We're also a member in good standing with the Tree Care Industry Association.
(404) 644-8733